We must invest in understanding, campaigning and building the infrastructure for the implicit human capacity to play. For all of us, play allows us to test how we shape ourselves, our environments and our lives with others. This includes the right to learning through playfulness at work, at home, in a city, town or village. We are no longer in our mother's or grandfather's labour movement, and this is no longer the plight of the working class proletariat, this is the struggle for souls - the souliltariat.
The Right to a Playful Life
A play ethic that would attend not just to playgrounds, but to the "grounds of play", not just for infants and children, but for families, adults and communities too. Building the Playful Lives Trust for legislative, financial and political powers to litigate and protect everyone's right to have a playful life.
Children to Start School At 7
Children to not start any formal schooling until the age of 7, with a play and wellbeing-led ethos until then.

Inspired by Upstart Scot.
Legislating for childrens' play. Wales introduced a play policy in 2002, with funding specifically for play. Each UK council to submit and be held accountable for decisions made in regards to play opportunity.

Inspired by Play Sufficiency.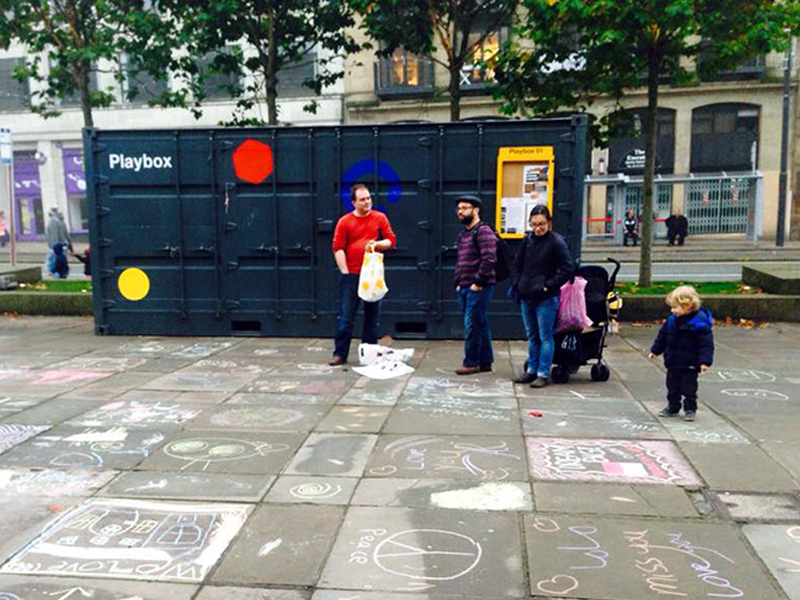 Playbox in Every Neighbourhood
Flexible playboxes that can pop up in any community at low cost, and foster the conditions for play, connection and fun.

Inspired by Playful Anywhere Lab & Playbox.
The convergence of wayfinding (tools that help people navigate or find their way) and play — delightful ways to interact with and explore your environment. Supported by legible signage and interactive and welcoming play conditions in public spaces.

Inspired by Playfinding.
City Metrics for Play Deprivation
A national campaign on the effects of play deprivation. City leaders to be held accountable and measured for play deprivation in cities, with a UK-wide playful lives index to be openly published.

Inspired by Play Wales / Play Deprivation.